Dried blood spot tests
The dried blood spot (DBS)

is a technique that is an alternative to conventional venipucture blood collection for clinical testing. The collection process involves a fingertip or heel (in the case of newborns and infants weighing less than 10 kg) prick and blotting the capillary blood onto a filter paper. The puncture is performed using a disposable pricker. Then blood collected on the filter paper is dried at room temperature in a horizontal position for approximately 2-3 hours. The DBS sample prepared in this way can be transported or used directly for diagnostic tests.
Unique properties of dried blood spot
Low invasiveness:


Capillary blood collection is a convenient method of obtaining material for diagnostic tests in children, seniors, obese individuals, intellectually disabled individuals, as well as those who experience fear of needles.
It provides a good solution when it is very difficult to perform an intravenous puncture due to problems with finding veins.
In addition, obtaining blood from the fingertip may be advisable for individuals who engage in intensive training, as there is no need to abstain from training on the day of blood collection.

Low sample volume:


To perform the test, only a drop of blood with a volume of 25-75 µl is sufficient, which corresponds to a blood spot on filter paper with a diameter of 8-14 mm. This is extremely important in the case of newborns, individuals requiring constant laboratory monitoring or patients in severe condition.

Possibility of sample collection at home and by non-medical personnel:


The ability to self-collect at home may be important for immunocompromised patients for whom a visit to a collection centre may present additional risks.
DBS collection is a good solution for individuals with limited mobility.
It facilitates conducting screening tests on large populations in conditions where access to specialized medical facilities is limited.

High stability of analytes:


Drying blood on filter paper inhibits or even stops the rate of metabolic processes, allowing for longer stability of the tested compounds.

Low infectivity in transport and handling:


Drying the material inactivates HIV and prevents transmission of HBV - only suspension in liquid may carry a risk of potential virus transmission, but only if there would be direct transmission of infected liquid into the bloodstream of the exposed person.

Easy and undemanding transport/storage:


It is possible to transport and store a larger number of samples using the same space.
The risk of damage or contamination of DBS samples is minimal.
No special environmental conditions are required during transport and short-term storage of the samples.
Limitations in the use of dried blood spots:
diseases that affect haematocrit level (e.g., anaemia, polycythaemia, dehydration, overhydration)
limited number of tests performed with DBS due to sample size
need for specialised measuring equipment
need for highly qualified personnel
prolonged waiting time for the result (transport to and from the patient)
possible errors in sample collection:

- low sample volume
- poor quality of the sample (e.g., repeated application of material to the same place, improper percolation, inadequate drying conditions)
- possibility of contamination of the sample during collection (e.g., hand care products, contamination of the surface of the blotting paper)
Contraindications for the collecting test material in the form of DBS:
dehydration or overhydration
low blood pressure with impaired peripheral circulation
presence of skin lesions in the form of thickening, callosities, ulcerations, or blisters at the planned puncture site
thrombocytopenia or platelet abnormalities, coagulation disorders
anaemia and polycythemia vera
presence of peripheral oedema
Please note that for newborns and children under 10 kg, the recommended puncture site is the heel.
Milestones in the development of DBS-based research
The primary medical applications of dried blood spots date back to the early 20th century. In 1907, Ivar Christian Bang first mentioned the use of blood applied to a special filter paper in glucose testing. The original publication on the subject appeared in 1913. Eventually, Bang was recognised as a pioneer and founder of modern clinical microchemistry.
At the same time, in 1911, Noguchi developed a version of the Wasserman test. He investigated the presence of antibodies directed against Treponema pallidum (the bacterium that causes syphilis) in the patient's serum, using filter paper as a carrier for the antigen.
Intensive research on the use of filter paper as a substrate for collecting samples for serological studies had already been conducted by 1939. Experiments were carried out on various types of filter paper, extraction methods, external factors, and specimen stability during transportation.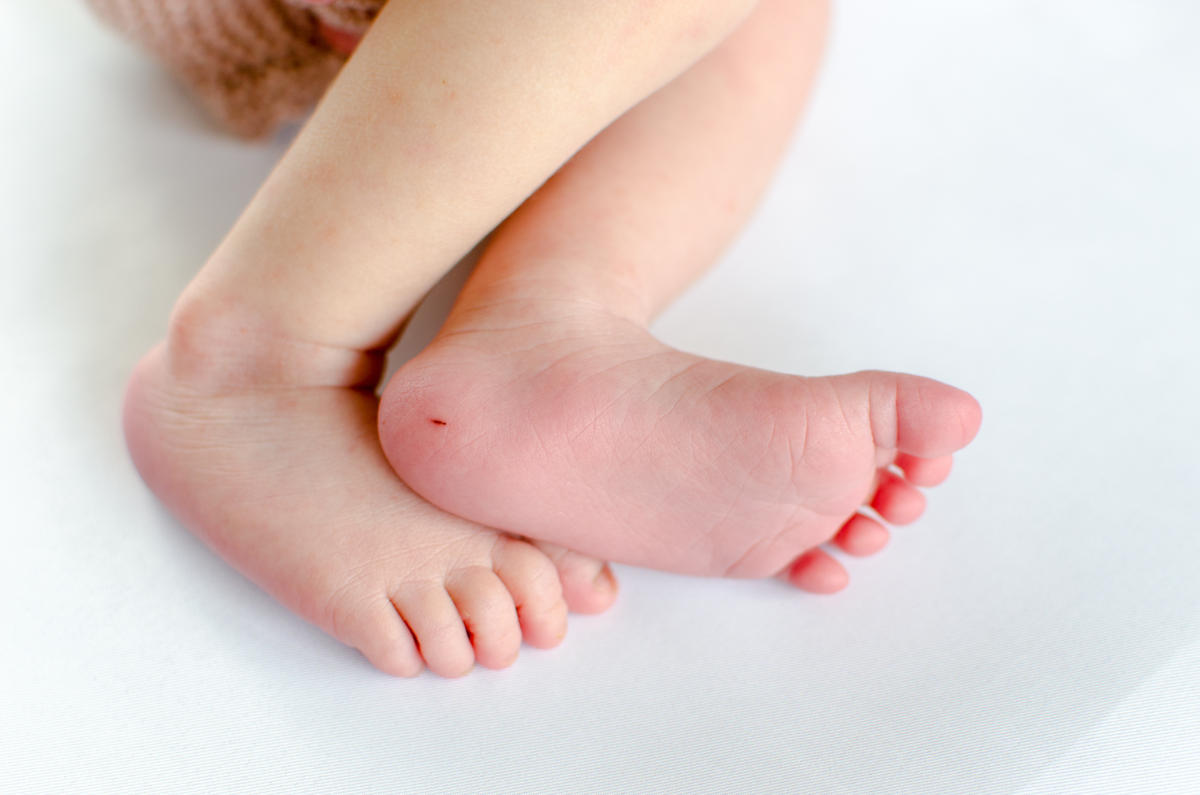 The turn of the 1950s and 1960s was significant for research based on dried blood spot. The first reports on the utilization of dried blood spot in diagnosis appeared in 1957, when it was used for the detection of Eastern equine encephalitis. In the same year, a device for cutting standardised discs was employed for the first time, and a year later, urine blotting paper was used in tests for the early detection of phenylketonuria in newborns. The years between 1961 and 1963 marked the beginning of a new era of screening research. During that time, Robert Guthrie developed and published an analytical method for the determination of phenylalanine in dried blood spot, which allowed for testing on an unprecedented scale.
The late 1990s proved to be another breakthrough in dry blood drop-based diagnostics. The idea of utilizing tandem mass spectrometry for multiparameter analysis from a single filter paper disc opened new perspectives for screening tests. It enabled the determination of a wide range of substances in single analysis, significantly reducing testing time, and due to the high stability of the analytes on the filter paper, resulting in the possibility of screening entire populations.
Newborn screening for rare inborn metabolic diseases (such as maple syrup urine disease, tyrosinaemia, citrulinaemia, organic acid disorders, fatty acid oxidation disorders) allows for early detection of disorders and enables rapid implementation of treatment, significantly reducing disability and mortality rates.
Dried blood spot applications
The recent years have resulted in intensive development of novel methods for testing using dried blood spot (DBS). These include the determination of amino acids, acylcarnitines, prostaglandins, cytokines, antibodies (such as anti-SARS-CoV-2), lipids, enzymes, hormones, tumour markers, vitamins, trace elements, drugs, and narcotics. The work is also ongoing on the use of DBS for flow cytometry analysis of leukocytes.
Other important applications of DBS include DNA/RNA molecular methods, immunological testing and nutritional assessments for children and adults. With advances in immunoassays and molecular techniques, DBS-based methods are currently used for detecting surface antigen of hepatitis B virus, antibodies against HBV core antigen and antibodies against hepatitis C virus (HCV antigen), detecting HCV RNA and 1-p24 antigen of human immunodeficiency virus (HIV) as well as anti-HIV antibodies. Fully automated platforms or sensitive qualitative nucleic acid assays are used for detection.
Dried blood spot tests also enable the detection of infectious agents. Early applications of DBS include serological tests for the diagnosis of syphilis or the detection of antibodies against measles, mumps, polio virus, pseudomumps virus, respiratory syncytial virus.
Potential applications of DBS also include toxicokinetic and pharmacokinetic studies, metabolic syndrome studies, therapeutic drug monitoring, forensic and clinical toxicology, and environmental contamination control. To date, protocols for DBS have been developed for drugs such as acetaminophen, aspirin, bosentan, caffeine, diazepam, omeprazole, procaine, valsartan, and metformin. In addition, DBS is used for detecting many metabolic intermediates, e.g., bile acids, carnitine, creatinine and homocysteine, as well as haemoglobin variants.
The possibility of using the dried blood spot technique for animal research is also important. It significantly reduces the amount of test material collected, as well as stress, pain and discomfort associated with the necessary research procedures.
However, a dried blood spot is just the beginning of a revolution in the development of alternative systems for collecting test material.
"Ivar Christian Bang (1869-1918), founder of modern clinical microchemistry"
Clinical Chemistry, 1986, 32(1), 213–215; doi: 10.1093/clinchem/32.1.213
"Some critical considerations on the serum diagnosis of syphilis"
Experimental Biology and Medicine, 1909, 6(3), 77–81; doi: 10.3181/00379727-6-36
"Dried Blood Spots: Applications and Techniques"
pod redakcją Wenkui Li, Mike S. Lee
"Clinical chemistry and dried blood spots: increasing laboratory utilization by improved understanding of quantitative challenges"
Bioanalysis, 2014, 6(21), 2791–2794; doi: 10.4155/BIO.14.237
"Official International Association for Therapeutic Drug Monitoring and Clinical Toxicology Guideline: Development and Validation of Dried Blood Spot-Based Methods for Therapeutic Drug Monitoring"
Therapeutic Drug Monitoring, 2019, 41(4), 409-430; doi: 10.1097/FTD.0000000000000643
"Dried blood spots: Effects of less than optimal collection, shipping time, heat, and humidity"
American Journal of Human Biology, 2020, 32(5), e23390; doi: 10.1002/ajhb.23390
"A review of microsampling techniques and their social impact"
Biomedical Microdevices, 2019, 21(81); doi: 10.1007/s10544-019-0412-y
"Tutorial: Volumetric Absorptive Microsampling (VAMS)"
Analytica Chimica Acta, 2018, 1046, 32-47; doi: 10.1016/j.aca.2018.09.004
"Dried blood spots: Concepts, present status, and future perspectives in bioanalysis"
Drug Testing and Analysis, 2014, 6(5), 399-414; doi: 10.1002/dta.1646
"Cell Analysis from Dried Blood Spots: New Opportunities in Immunology, Hematology, and Infectious Diseases""
Advanced Science News, 2021, 8, 2100323; doi: 10.1002/advs.202100323
"Sensitive Detection of SARS-CoV-2–Specific Antibodies in Dried Blood Spot Samples"
Emerging Infectious Diseases, 2020, 26(12); doi: 10.3201/eid2612.203309
"Human Saliva Collection Devices for Proteomics: An Update"
International Journal of Molecular Science, 2016, 17, 846; doi: 10.3390/ijms17060846
"Guidelines for the Shipment of Dried Blood Spot Specimens"
CDC, Infant Screening, 1993, 16(1);
The above advantages were already recognized in the 1960s in the screening of newborns for inborn metabolic disorders. Since then, extensive work has been underway to use and implement DBS in various diagnostic fields - from scientific and specialized research to its use in basic laboratory testing.
Masdiag Laboratory has developed and implemented a wide range of tests based on dried blood spot.
With the aim of sales dedicated to individual customers, the Precision Diagnostics brand https://diagnostykaprecyzyjna.pl has been created, allowing tests to be purchased with "your blood collection kit" attached.
You can order
our tests online at:
diagnostykaprecyzyjna.pl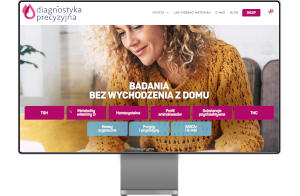 The key information about the cooperation schemes can be found in the COOPERATION tab.
List of dried blood spot methods:
Watch the video on how to collect a sample: